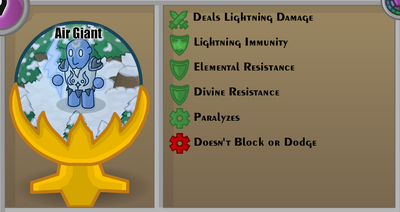 Air Giant is a level 9 creature.
This is a hard boss, a lot like the dragon, where you need a balanced team, usually one ranger and two melee. I would recommend doing this fight way later in the game, after farming XP and getting great weapons.
here is a little info about a air giant: they deal lighting damage, they have lighting immunity, they are elemental resistant, they have divine resistance, they can paralyze the heros but they dont block or dodge which makes them easy to hit.